Basic 3 Kit
Sale price Price $291.00 Regular price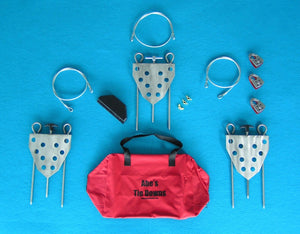 Abe's Basic 3 Kit is a great starter kit. It gives you one anchor for each of the three tie downs locations as well as two holding rods for each anchor.
You get one straight cable for each anchor and one of our new UHMW pounding blocks along with one metal and two plastic anchor extractors. A heavy duty nylon carrying bag comes with this kit to store it in.
We've recently added pulleys to both of our Basic Kits to prolong the life of the cables. Now you provide your own ropes and tie them directly to the pulleys. This is our lightest kit and weighs less than 1 gallon of water.
Our pull tests in the backcountry show that our single anchor system out-performs the FlyTie and nearly equals The Claw.
Protect your investment in your aircraft with the best.
This kit comes complete with:
(3)  - Stainless Steel Anchors
(3) -  Brass Wing nuts (these serve as spares)
(6)  - Stainless Steel Holding Rods
(3)  - Pulleys
(3)  - Straight Cables
(1)  - Pounding Block
(1)  - Heavy Duty Nylon Carrying Bag
(1)  - Metal Anchor Extractor
(2)  - Plastic Anchor Extractors

Weight = 7.0 lbs