Basic 5-Kit
Sale price Price $389.00 Regular price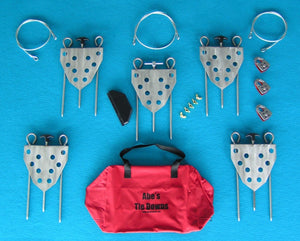 Abe's Basic 5-Kit has two anchors for each wing tie down location and one anchor for your tail section. It comes with 2 holding rods for each anchor along with our new UHMW pounding block, one metal anchor extractor, four plastic handle anchor extractors, and a heavy duty nylon carrying bag to store your kit in.
We've recently included pulleys in our Basic 5-Kit to prolong the life of the cables. Like our Basic 3 Kit, you provide your own tie down ropes and tie them directly to the pulleys.
Our pull tests performed in the backcountry show that our double anchor system holds 40% more weight than The Claw and 55% more weight than the FlyTie.
Protect your aircraft with the best.
This kit comes complete with:
(5)   - Stainless Steel Anchors
(5)   - Brass Wing Nuts (spares)
(10) - 14″ Stainless Steel Holding Rods
(3)   - Pulleys
(3)   - Straight Cables
(1)   - Pounding Block
(1)   - Heavy Duty Nylon Carrying Bag
(1)  -  Metal Anchor Extractor
(4)   - Plastic Anchor Extractors
Weight = 9.9 lbs