Deluxe 3-Kit
Sale price Price $375.00 Regular price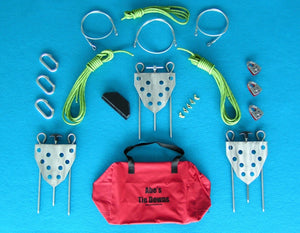 Abe's lightweight Deluxe 3-Kit gives you everything that comes in our Basic 3-Kits plus three tie down ropes and one carabiner for each of the three tie down ropes.
The pulleys will add life to your cables and the carabineers make tying down a breeze. This kit still weighs near that of one gallon of water.
Our pull tests in the backcountry show that our single anchor system outperforms the FlyTie and nearly equals The Claw.
Protect your investment in your aircraft with the best.
This kit comes complete with:
(3)  - Stainless Steel Anchors
(3)  - Brass Wing Nuts (spares)
(6)  - 14″ Stainless Steel Holding Rods
(3)  - Straight Cables
(3)  - Carabiners
(3)  - Pulleys
(2)  - 15′ Wing Ropes
(1)  - 8′ Tail Section Rope
(1)  - Pounding Block
(1)  - Heavy Duty Nylon Carrying Bag
(1)  - Metal Anchor Extractor
(4)  - Plastic Anchor Extractors
Weight = 8.1 lbs