8' Tail Rope w/Carabineer
Sale price Price $23.76 Regular price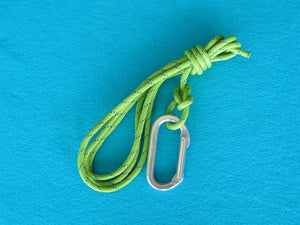 Our quality 8′ Tie Down Rope with Carabineer are both made of quality mountain climbing materials. Rope thickness is 7 mm (9/32″).
These shorter 8′ ropes are normally used on the tail sections, while the longer 15′ ropes are used on the wings.
I attach the rope to the carabineer using a bowline knot and have had good success over many years of tying my airplane down.
Rope BS = 2405 lbs
Carabiner BS = 4640 lbs