Anchor with Metal Extractor
Sale price Price $33.11 Regular price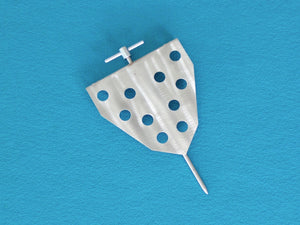 Our Anchors are made with 304 16-Ga Stainless Steel welded to a 5/16″ 304 Stainless Steel Rod. The rod has a machined bulleted tip that adds to the ease of putting it into the ground. The 7/8″ lip on the Anchor makes it easier to remove from the ground.
The top of each anchor has a threaded 5/16" rod.  This rod allows the cable to be attached to the anchor and the wing nut, plastic or metal extractors are threaded on and keep the cable in place while the system is in use.
Whether you're designing your own Kit or adding our stainless steel Anchor w/Metal Extractor to update your 3-Kit so it has the holding power of our 5-Kits, you can purchase additional anchors with either our metal or plastic extractors.  With this purchase you get ONE ANCHOR and ONE METAL EXTRACTOR.
By adding 2-Holding Rods to this anchor will give you 16% more holding power than just the anchor alone.