Stainless Steel Anchor
Sale price Price $42.89 Regular price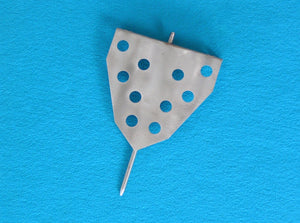 Our newly designed Anchor. The same holding strength as our original design, but weighs 0.4 ounces less and is easier to put in and pull out of the ground.
Dimensions:
    7″  - wide
  10″  - overall length
 7/8″  - lip
Our Anchors are made with 304 16-Ga Stainless Steel welded to a 5/16″ 304 Stainless Steel Rod. The rod has a machined bulleted tip that adds to the ease of putting it into the ground. The 7/8″ lip on the Anchor makes it easier to remove from the ground.
By putting 2- Holding Rods into each Anchor through the two 5/8″ holes located in the 7/8" lip of the Anchor, our tests have shown us that you add 16% more holding strength to the system. (Holding rods sold separately.)
Each Anchor comes with one Brass Wing Nut as a spare.
This price is per Anchor.
Weight = 13.2 oz